Product details of Original Apple Watch Series 7 45mm GPS Aluminium Case Sports Band
Original Apple Watch Series 7 45mm
Apple Watch Series 7 GPS 45mm Midnight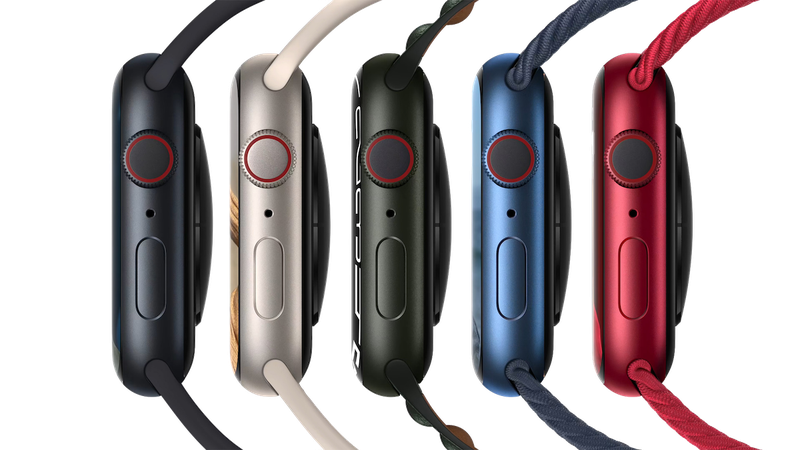 The larger display enhances the entire experience, making Apple Watch easier to use and read. Series 7 represents our biggest and brightest thinking yet.
Physics be damned.
The challenge was to create a bigger display while barely expanding the dimensions of the watch itself. To do so, the display was completely re‑engineered, reducing the borders by 40%, which allows for nearly 20% more screen area than Series 6. And over 50% more screen area than Series 3. That's something to smile about.
Always-On Retina display. A brighter view of you.
You don't need to raise your wrist or touch the screen to see the time or other information and complications on your watch face, because the display is always on. And now it's 70% brighter indoors when your wrist is down.
Tougher around the clock 50% thicker front crystal.
The front crystal is over twice as thick at its tallest point than Apple Watch Series 6, adding strength and durability.
Robust geometry.
The front crystal has been redesigned with a flat base, creating a sturdier shape more resistant to cracks.
OLED display.
The touch sensor has been integrated onto the OLED panel, creating one unified component and reducing display thickness and borders.
The future of health-On full display.
Measure your blood oxygen level with a revolutionary sensor and app. Take an ECG anytime, anywhere. Check your heart rate. Along with other innovations like mindfulness and sleep tracking to keep you healthy from head to toe. Series 7 puts more health insights in sight.
Watch faces that look just like you.
Create your own watch face with complications tailored to whatever you're into. If you're a surfer, see the tides, wind, and water temperature at a glance. You can even share faces with friends and family by email or text.
cached
Always-on Retina display has nearly 20 per cent more screen area than Series 6, making everything easier to see and use
The most crack-resistant front crystal yet on an Apple Watch, IP6X dust resistance and swim-proof design
Measure your blood oxygen with a powerful sensor and app
Take an ECG at any time, anywhere
Get high- and low-heart-rate and irregular heart rhythm notifications
Stay in the moment with the new Mindfulness app and reach your sleep goals with the Sleep app
Track new Tai Chi and Pilates workouts, in addition to favourites like Running, Yoga, Swimming and Dance
Track your daily activity on Apple Watch and see your trends in the Fitness app on iPhone
Sync your favourite music, podcasts and audiobooks
Pay instantly and securely from your wrist with Apple Pay
All-day battery life and faster charging
watchOS 8 introduces new workout types, the Mindfulness app, the new Portraits watch face and enhancements to Messages
Apple Watch comes with three months of Apple Fitness+, featuring world-class workouts by the world's top trainers